Area School web sites:
Other Helpful Links:
Oklahoma Department of Libraries
The Whitehouse Government Website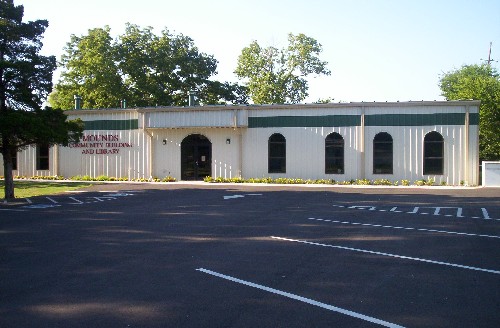 Formerly: Mounds Public Library


15 West 14th Street


Mounds, Oklahoma


Phone: (918) 827-3949
Fax: (918) 827-3949

Serving the communities of




Mounds, Kiefer and Beggs.


About the library

The Mounds Public Library currently has four patron computers with Internet and educational games for kids. The library has over 4,000 Books, over 300 videos, audio books on tape, and approximately 75 DVDs. We offer literacy services for volunteer tutors and students learning to read, and reading programs for toddlers, youth, and teens plus computer classes for adults.

Mission Statement:

Mounds Public Library, the community's information center, provides a variety of library resources, access to innovative technologies, and staff to improve the quality of life and meet the informational, educational and cultural interests of the entire community of Mounds.

With an emphasis on excellence our library provides:

☻

A consistent level of high quality service to make everyone's experience with the library as easy, pleasant, and as comfortable as possible

☻an environment that encourages reading, learning and thinking and allows those who want to borrow and return library materials, use materials or study in the library, or obtain staff assistance to do so as easily as possible.
Dedication
A dedication and ribbon cutting ceremony for the new Julia Crowder McClellan Memorial Library and the Mounds Community Center was held on Sunday, June 5, 2005.
Hours:
Wednesday 10:00-6:30
Thursday 11:30-8:00
Friday 10:00-6:30
Saturday 10:00-2:00
(June –July)
Toddler's Time –
(Ages up to age 6)
Saturday 11am – 12pm
Children's Summer
Reading Program
(Ages up to 12 years)
Wednesday 3:30–4:30pm
Teen's Corner-
(Ages 12 & up)
Thursday 3:30 – 4:30 pm